https://www.thelandsite.co.uk/articles/the-future-of-office-workspaces
23-03-2020
https://www.thelandsite.co.uk/files/articles/376151d6605c11e98dac024b03131eda/Capture_5.png
897
The future of office workspaces
Published by Knight Frank Newcastle on 23rd March 2020 -
Today's offices are far more exciting than the dull, soul-wrenching cubicles featured in those 1990s' films. It's no longer about cramming in as many people as possible.
Office space is now a strategic device – one that boosts your bottom line, improves productivity and retains your talent. Workspaces feature Zen rooms, breakout spaces and artisan coffee spots. They're highly insta-worthy, retaining both substance and style with the benefits of state-of-the-art, employee-friendly design.
Considering this paradigm shift in what we expect from workplaces, and with 2020 now gathering pace, I want to give you a sneak peek into the future office landscape in Leeds. These are the workplace trends that I believe are emerging.
First, and crucially, mental health at work is now at the centre of office design and ambience.
Offices aren't just focusing on glass partitions and unique breakout areas anymore. They're now being designed to improve your wellbeing.
Health and happiness boosting features include plants, yoga sessions, purified air, nutritious snacks and even sleep pods for when the afternoon slump hits.
As you can imagine, these perks reduce stress, increase productivity and reduce sickness absences. UK charity Mind says that incorporating nature indoors can also improve confidence and boost self-esteem. More and more offices are offering wellness rooms, and while these are great spaces for taking a quiet break, they have actually been positively beneficial for new mothers needing to breastfeed.
Secondly, sustainability. This is more than a buzzword.
There's little doubt that environmental sustainability will take centre stage in Leeds this year. Workplaces are expected to boost their sustainability efforts – both through how an office space is designed and how an office space is run. In terms of office design, I believe we'll see an influx of sustainable materials like bamboo and recycled or reclaimed furniture.
In terms of how a space is run, this could be through partnerships with cycle to work schemes, eco-friendly ways to dispose of rubbish, water-saving bathroom fixtures, energy-efficient lighting, environmentally friendly cleaning products and seasonal food offerings. Considering the climate crisis we're facing, sustainability has become less of a buzzword and more of a necessity. That's why workplaces are recognising their social responsibility.
Thirdly, I predict that bigger businesses will shift to flexible office space as the benefits of co-working will continue to lure in large corporates. This means that larger teams – or even entire businesses – could be placed in highly engaging, amenity-heavy spaces in a bid to attract and retain top talent. Big businesses will up their search for satellite, project and overflow space, which could have very positive consequences for cities like Leeds.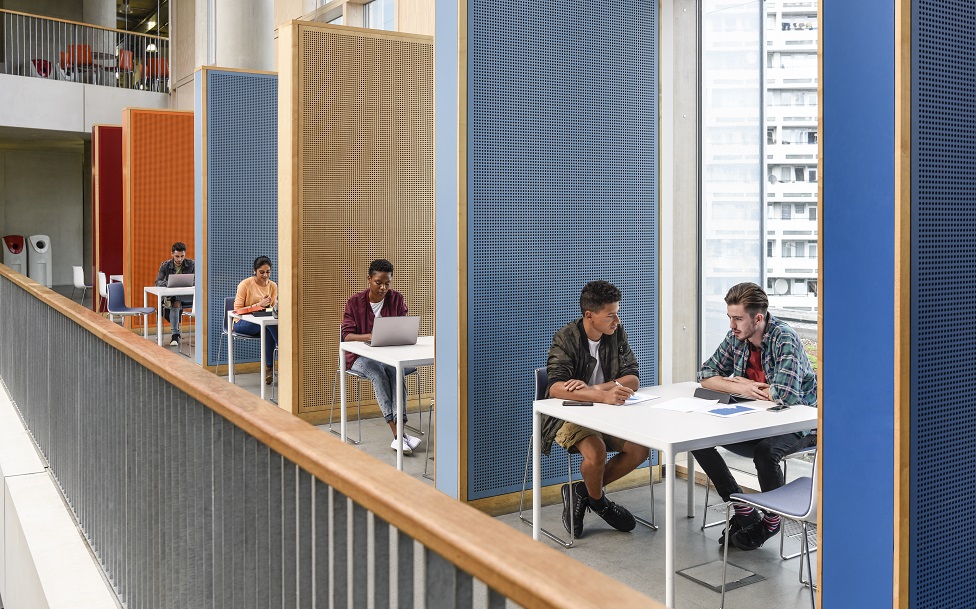 In Knight Frank's 2018 trend report (Y)OUR SPACE, senior executives at 120 global companies were interviewed and 44% said that flexible space will make up a fifth of their office space in the next three years, while 16% predicted half of their workspace will be flexible within three years. It is vitally important the developers and investors in Leeds recognise this trend.
Fourthly, businesses will begin to create their own on-brand offices. It is likely that medium-sized businesses will lean towards managed offices, especially those looking to attract new talent. Managed offices are blank canvases. They allow you to create a customised office from scratch, exactly the way you want it.
Managed offices tend to suit businesses who are looking for more privacy than co-working spaces, but less admin than traditional offices. For businesses who want their office to be totally on-brand, the ability to design, fit and create an office space (while maintaining flexibility in term length) can be really appealing. Managed offices allow companies to create a unique and culture-conscious workspace that can help attract top talent and promote wellbeing - all in a way that's truly their own.
There are a number of recent developments in Leeds, which have anticipated these trends – and are catering for them. These include 6 Queen Street, 33 Wellington Street, Bruntwood's Platform, Rushbond's Majestic, 1 City Square and 34 Boar Lane.
34 Boar Lane is an excellent case in point.The spectacular transformation of an iconic building in the heart of Leeds into a creative office, leisure and retail space is now complete. Accenture Digital are the first company to take up residence, as a launch partner, following the £6.5m renovation. Owners Kinrise have fulfilled ambitious plans to create one of the most dynamic mixed-use destinations in Leeds.
The 57,000 sq ft building is located immediately opposite the railway station and is ready to occupy now.
34 Boar Lane is unique as a workspace as it provides single desks for entrepreneurs, studios for small teams and full floors for large global companies, all under one roof with a programme of cultural events and even free electric bicycles for tenants to get around the city.
Global consultancy firm Accenture Digital is a launch partner of the co-working and studio space in order to be the first to take advantage of the fantastic facilities and act as a catalyst for the Boar Lane creative, digital and technology ecosystem. Accenture will make 34 Boar Lane their home in Leeds and the base for their activities and planned growth in the city. This building is a blueprint for the future of offices in Leeds.