https://www.thelandsite.co.uk/articles/london-office-construction-set-for-rise
12-02-2020
https://www.thelandsite.co.uk/files/articles/f0d74f41675211e98f91024b03131eda/aerial-photography-of-state-of-the-art-architectural-high-947662.jpg
579
London office construction set for rise
Published by Glenigan on 12th February 2020 -
The clearer political situation and improving economic outlook have provided a boost to the prospects for the construction pipeline in the key central London office market.
A recent survey from JLL shows that despite Brexit, the capital's office leasing scene remained busy last year, both in the City – where rents are forecast to rise in 2020 - and in the West End. In total some 11.6 million sq ft of office space was taken up in central London last year, up from 11.5 m sq ft in 2018.
Meanwhile, a separate study from consultants Cushman & Wakefield shows that the availability of office space in the capital stands at 13 million sq ft, a vacancy rate of just 4.8% and some 6% below the ten-year average.
All of this bodes well for the prospects for new office construction activity in the capital as developers seek to take advantage of strengthening demand.
Brightening outlook
Indeed, the brightening outlook for office building in London is being reflected in Glenigan Construction Data. It shows that the value of office project starts in London rose 47% in the three months to December, compared to the period a year ago. In all, they were worth £539 million in the fourth quarter, accounting for just over half of the value of office starts in the country.
Some major office construction projects are set to get underway in the capital this year. Detailed plans have been granted and construction work is set to start later this summer on HB Reavis UK's £600 million scheme at Elizabeth House near Waterloo Station. It will involve a major new building ranging in height from 12 to 31 storeys and creating some 146,170 sq m of office space and 8,900 sq m of flexible space and with construction work continuing for 62 months (Glenigan Project ID: 90131206).
In the City, detailed plans have been submitted for a major £69.4 million office project, the London Wall Buildings Extension, involving 31, 859 sq m of new space. Quantem Consulting is the QS on the scheme, which is at the pre-tender stage and where construction work is set to start this autumn and continue for nine months (Glenigan Project ID: 20067263).
Favourable conditions
Land Securities, the largest publicly quoted property group, recently pointed to favourable conditions for development in London, reflected in a limited availability of high-quality office and living space and the recent modest level of construction starts.
Landsec currently has one million sq ft of space under construction in London and a potential development pipeline of around 3.5 million sq ft of space in the capital. Moreover, the group says it has the ability to increase this by a further 800, 000 sq ft of office-led schemes in 2020, with new projects at Portland House, worth £11 million (Project ID: 13083982) and Lavington Street valued at £8.8 million (Glenigan Project ID: 15363627).
Landsec is also progressing plans with an office-led scheme at its Red Lion Court Redevelopment, which is valued at £61 million and set to start this summer (Glenigan Project ID: 18423376), and two mixed-use schemes in Shepherd's Bush and Finchley Road.
Meanwhile, further east, new office construction will make up a significant element of the Northern & Shell's £1 billion redevelopment of the former Westferry Printworks site on the Isle of Dogs, which recently secured planning permission. Mace is the development manager on the scheme, which also includes some 1,500 homes across the 15-acre site (Glenigan Project ID: 15313137).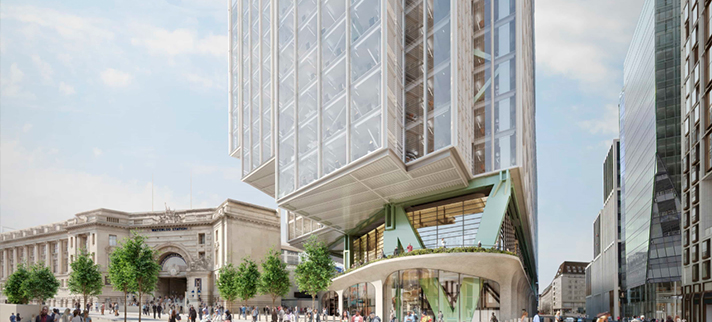 London office construction pipeline boost. Elizabeth House at Waterloo. Image Source: HB Reavis