https://www.thelandsite.co.uk/articles/construction-growth-still-on-track-despite-disruptions
24-11-2021
https://www.thelandsite.co.uk/files/articles/f0d74f41675211e98f91024b03131eda/12.jpg
1527
Construction Growth Still on Track Despite Disruptions
Published by Glenigan on 24th November 2021 -
Construction growth will continue to recover from the immediate aftermath of the COVID-19 pandemic over the next two years according to the latest Glenigan construction industry forecast.
In the first half of this year, the UK economy and the construction industry rebounded strongly, but the recovery's pace subsequently moderated due to material and labour supply issues.
This year is expected to have produced strong growth. The total value of underlying construction project starts (worth less than £100 million) is forecast to reach £54.2 billion according to Glenigan's industry research. This total will be 11% up on last year but still 8% lower than the pre-pandemic levels recorded in 2019.
Key factors
Construction growth will then moderate over the next two years but Glenigan forecasts an increase of 7% next year. In 2023, there will be a further 5% growth that will push the value of underlying project starts up to £61 billion. This figure would be 3% higher than the level of starts recorded in 2019.
Value of Underlying Construction Project-Starts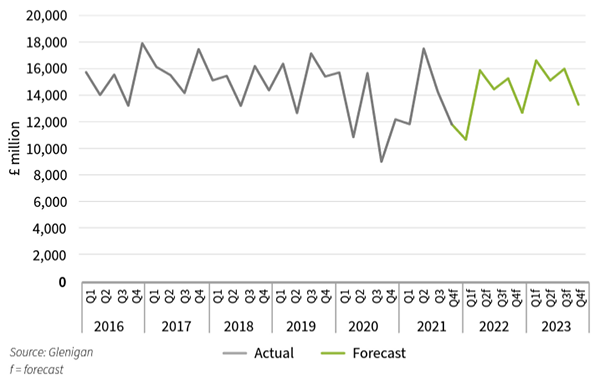 This weaker construction growth will be due to private sector investment in most non-residential sectors being held back by post-pandemic disruption to UK business revenues and confidence.
Glenigan economics director Allan Wilén comments: "Construction industry growth over the forecast period will be shaped by the UK's and global path out of the pandemic as well as the response by the private sector and the Government."
Weaker private sector investment is one of six key areas that Glenigan expects will influence the industry's performance in the period covered by the latest forecast from 2021 to 2023.
Other factors include a check on private housebuilding due to weak real earnings growth, and disruption to the supply chain and labour shortages from post Brexit customs regulation.
Mr Wilén adds: "We expect supply-side issues to temper the pace of growth over the forecast period. Near-term availability and cost of materials are set to be the greatest constraint on industry growth. These are anticipated to ease during 2022, while labour availability and wages are expected to be a growing supply-side constraint."
Public promise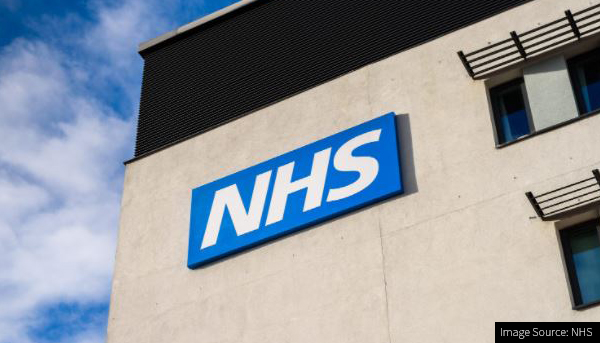 Glenigan expects that increased public sector investment will support the recovery in construction activity and partially offset weaker private sector work.
Funding commitments from the government's latest Spending Review are anticipated to boost state investment in sectors such as health and civil engineering.
The Nightingale temporary hospital programme helped lift project-starts by 37% in the health sector last year. This year, work has moderated but an improvement is due to materialise.
Mr Wilén explains: "The outlook for the health sector is brightening, with promised increases in NHS capital funding expected to lift project-starts over the forecast period. Starts have slipped back in 2021 after last year's strong performance, but the sector is set to return to growth rising by 5% in 2022 and 4% in 2023 as NHS trusts develop and implement their investment programmes."
Project-starts in the civil engineering sector were disrupted and delayed last year by the pandemic, but the sector is also set to recover progressively over the forecast period.
"Additional public sector funding is potentially available in areas such as roads," says Mr Wilén. "Resources have been initially directed at starting smaller improvement schemes and areas such as tackling the maintenance backlog on the nation's roads, while larger projects are gradually progressed to start on site,".
Glenigan also expects that increased investment in rail projects and by the regulated utilities will lift overall civil engineering activity over the forecast period.
In contrast, the Spending Review is not likely to include much extra capital funding in real terms for the Department of Education, which will restrict spending on new school facilities. A fall in capital spending by universities is expected to also temper the growth in education sector work, but increased investment in FE colleges may materialise through the Spending Review.
Impact of shopping differently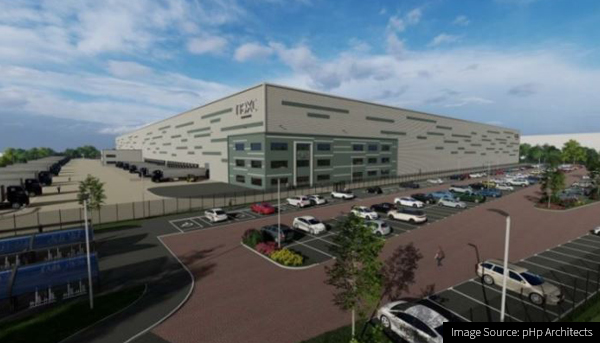 Shifts in consumers' spending habits will boost work on warehousing and logistics projects but this is forecast to come at the expense of traditional retail environments.
The long-term growth in online retailing was accelerated during the pandemic and Glenigan expects that this will help ensure further expansion of warehousing and logistics activity during the forecast period.
While the pandemic and repeated lockdowns boosted demand for logistics space, the impact of COVID-19 exacerbated the woes faced by more traditional retailing.
Shoppers are now returning to the High Street but online purchases still accounted for 26% of retail sales during the third quarter of 2021.
"Retail starts have improved this year, largely driven by an increase in supermarket investment," adds Mr Wilén. "However, a renewed weakening in retail sector activity is forecast for the next two years as an overhang of empty retail premises, weak consumer spending and the growth in online retailing accelerate the restructuring of the retail industry and depress the demand for retail premises."
Back to the office?
Successive lockdowns forced large swathes of the population to work from home and this exacerbated a cyclical downturn in office construction activity. Starts declined sharply last year but rebounded by 26% during the first ten months of 2021 according to Glenigan, which identifies further reasons for optimism.
Mr Wilén explains: "The sector will benefit over the forecast period from a rise in refurbishment projects as tenants and landlords adapt premises to accommodate changing working practices.
"In contrast, new build office projects are likely to be slower to recover as tenants and developers assess the potential impact of structural shifts towards remote and hybrid working on the long-term demand for office accommodation."
Home growth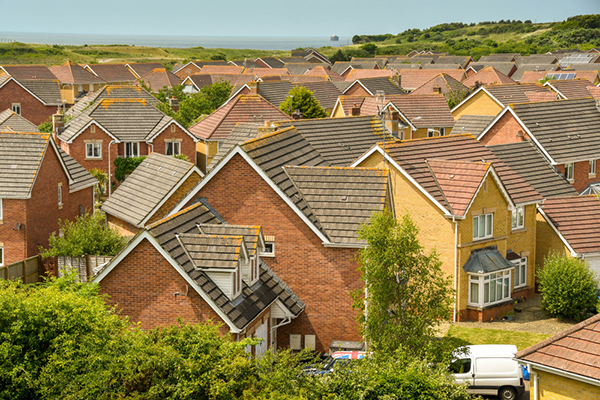 As workers digested the impact of working from home more frequently, this fuelled a mini-boom in the housing market, but that is now beginning to fade.
Property transactions and house prices had risen sharply over the past 18 months as the impact of pandemic restrictions and remote working fuelled the demand for larger properties, especially in market towns and semi-rural settings.
Transaction levels and house prices were also buoyed by a temporary cut in stamp duty rates until the second half of 2021, which helped lift the value of private residential construction starts during the first ten months of 2021 by 22% compared to last year. However, Glenigan does not expect this to be sustained.
The recent surge in housing market activity is forecast to fade during 2022, following the removal of the temporary stamp duty reduction," says Mr Wilén. "Homebuyers' confidence is also being dented by weak real earnings growth and higher taxes and mortgage costs and this will temper the rise in project-starts."
Slower social housing bounce-back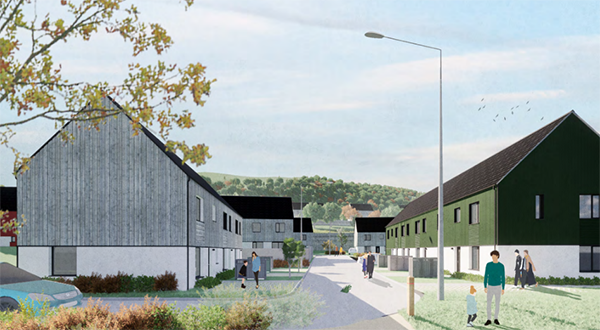 Social housing starts have grown at a far weaker rate this year, but a forecast 1% rise is estimated to accelerate to growth of 6% next year.
Mr Wilén says: "Housing associations are now better placed to finance and take forward new developments than in recent years. Government requirements limiting association's rent increases to 1% below the rate of inflation have been lifted, providing associations with greater flexibility to increase their borrowing to fund new developments."
Last year also saw a sharp rise in capital funding for housing and communities' projects to £9 billion in what was then the Ministry for Housing, Communities and Local Government.
This department has since been renamed, the Department for Levelling Up, Housing and Communities and has experienced a decline in capital funding this year but this is expected to recover by 2022/23.
This rise will underpin social housing construction activity up until the end of 2022, before the capital budget falls back from 2023/24 onwards and Glenigan anticipates that starts will weaken.
Regional outlook
Regionally, Glenigan forecasts that growth will be strongest across the Midlands and the north of England due to the impact of policies introduced by the government.
Mr Wilén comments: "The Government's levelling-up agenda will provide a spur to new development activity in these regions."
Construction industry growth in the devolved administrations of Wales, Scotland and Northern Ireland is also expected to outpace the rate of overall growth in the UK.
What the future holds?
The recovery from the worst of the COVID-19 pandemic will be uneven with some regions and sectors rebounding more strongly than others according to the Glenigan forecast.
Mr Wilén concludes: "The pattern of UK construction activity is changing post-pandemic. As construction workloads are rebuilt over the next two years, the best performing sectors will differ from those prior to the outbreak.
"The types of opportunities are also likely to evolve. Structural changes are expected to create new opportunities in warehousing & logistics, office and retail refurbishment and fit-out and the repurposing of redundant commercial premises.
"The residential sector is also likely to see a trend away from high-rise city centre residential developments towards low-rise family housing."
As the construction industry digests these structural changes, Glenigan predicts that there will still be continued growth until the end of the forecast period in 2023 to support firms' order books and jobs.